---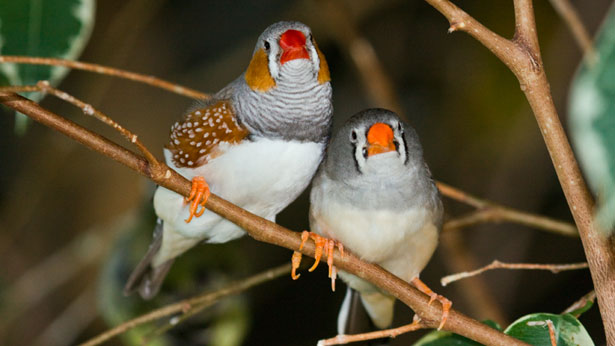 Arranged marriages between birds result in poor parenting, infidelity, fewer surviving offspring
17 September 2015
Birds that choose their own mates make better parents and as a result have a 37% higher reproductive success rate than those which are assigned a mate, according to a study published this week in the journal PLOS Biology.
Zebra finches are socially monogamous birds that pair for life and share parental duties. When they choose a mate, the reasons for their choice are not always obvious. Mating preferences appear to be specific to the individual bird. In other words, zebra finch females don't all agree on what constitutes the ideal zebra finch male. The question, then, is how does she choose? There are two ideas: Either she chooses a male who is her best genetic match, or she chooses a male whose behaviour best complements hers.
In an elegantly conceived experiment, researchers from the Max Planck Institute for Ornithology in Seewiesen, Germany allowed birds from a population of 160 aviary finches to select a mate freely. Half of the females were then caged with their chosen partner, and half were caged with the chosen partner of another female. This way, all the birds had been chosen by another bird, ensuring they were all of a similar quality.
The pairs then remained in their individual cages for several months to give the reassigned pairs time to bond (Zebra finches will pair-bond if housed with an assigned mate for long enough.) Following that, the pairs were placed in communal aviaries housing three "freely chosen" pairs and three "arranged" pairs, and given the opportunity to breed for about 5 months.
The researchers found that pairs allowed to choose their own mate had 37% more surviving offspring. They observed more infertile eggs when birds were arbitrarily paired; the female of the pair was less willing to copulate with her partner, while the male was less attentive to the nest and significantly more active in courting other females. However, the researchers found that the embryo mortality rate (ie. before hatching) was the same for both groups.
A key finding of the study was that although "arranged marriages" resulted in similar rates of embryo mortality to those of freely chosen pairings, the latter had lower rates of mortality once the chicks had hatched. It appears "free choice" pairs were significantly better parents because of their superior behavioural compatibility rather than any genetic compatibility factors. This supports the idea that birds may choose mates based on behavioural rather than genetic compatibility.
References / Read more:
---
---